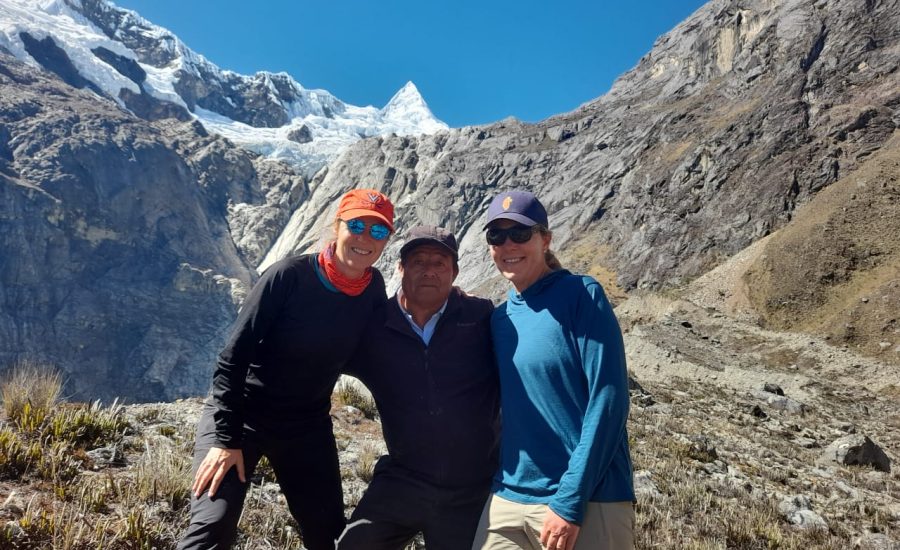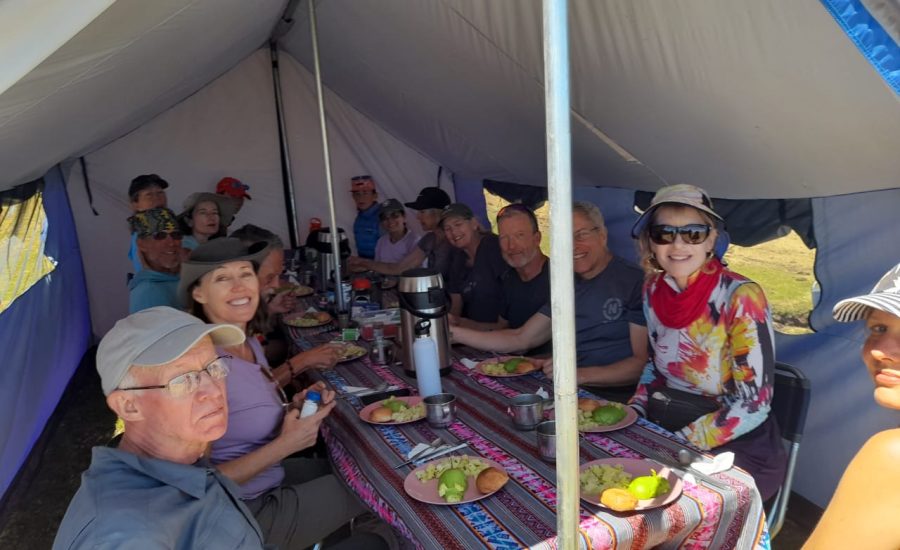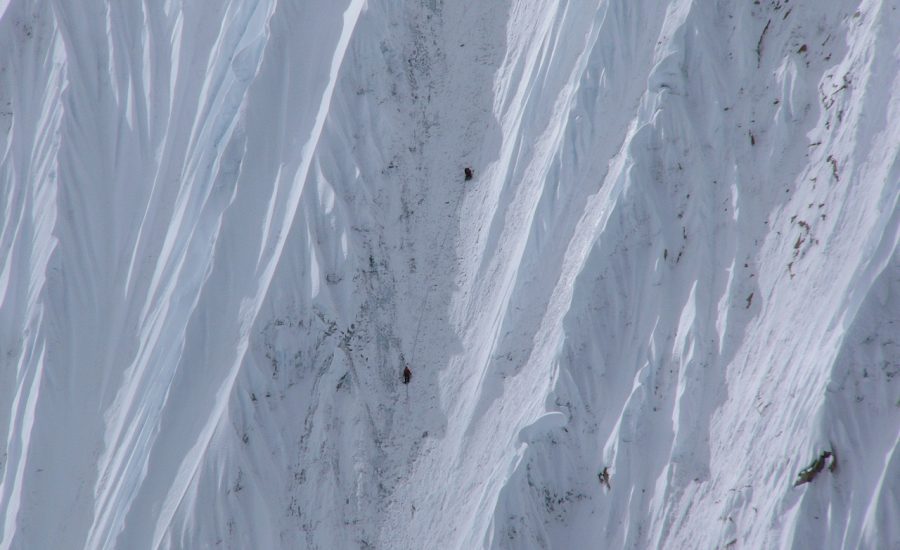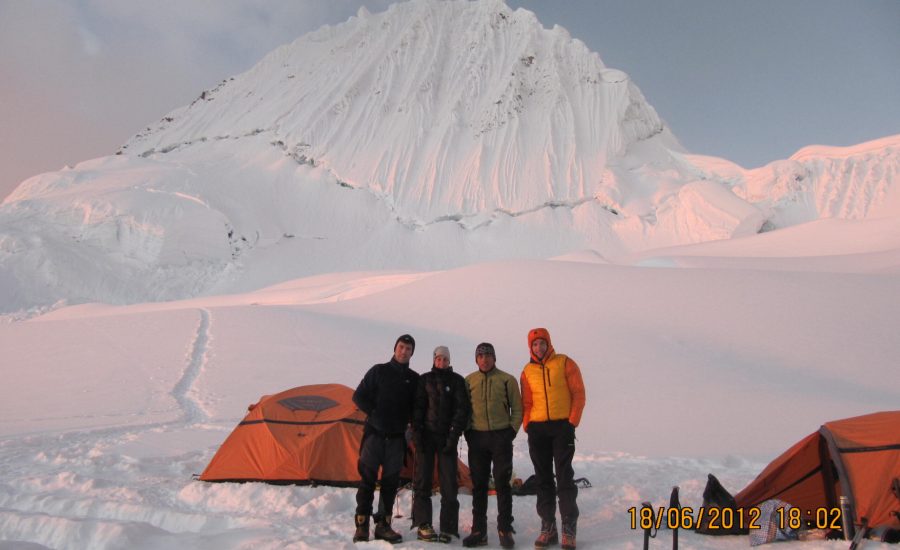 The Cordillera Blanca is the highest equatorial mountain range in the world. With 36 summits rising to over 6000m peaks are perpetually snow – clad. Among the more famous of its mountains are the giant Huascaran (22,300`), the highest peak in Perú -and the classic pyramid of Nevado Alpamayo the world´s most beautiful peak (19,600'). Cold mountain streams tumble and swirl their way down from peaks to the many beautiful glacial "Lakes ". In the canyons called "Quebrada" only a few thousand feet below, the vegetation ranges from brilliant flowering plants to exotic succulents.
The valleys of the Cordillera Blanca are inhabited by Quechua – speaking Indians. They wear colorful hand loomed woolen clothing and raise corn and potatoes as staple crops. Although there have been some changes due to increasing contact with outsiders, the old traditional way of life is very strong here. Many others still thresh grain by circling donkeys around the floor of the threshing ground; often the work is accompanied by musicians who play wooden flutes and drums.
Few mountain ranges present such varied archeological remains as this one. Artifacts and sites discovered here over the years represent at least four civilizations prior to the Spanish. Abandoned terraces and irrigation systems are testimony to greater agricultural activity in the past.
Mountain trails in the region are good and the hiking is superb, even if you never intend to climb a peak.
The weather is usually brilliantly clear and the mountain views are exceptional.
The Cordillera Blanca has become increasingly popular for climbers and trekkers in the last 20 years. The government of Peru made a national park out of most of the Cordillera Blanca in 1975, the purpose of which is to facilitate study of the archeological sites, preserve the rarer species of plants and animals, and to regulate the number of visitors to the area.
Day 1
The group will arrive in the afternoon and transfer directly to the Hotel in Lima.
Day 2
Lima: City Tour . 3 Hrs In the afternoon, a trip to the essential Lima, "The City of Kings" including the most important architectural icons of the city, such as the Main Square, where you can find the Government Palace, the City Hall, the Cathedral and the Archbishop's Palace. Then, we continue with a visit to the San Francisco Convent, an architectonic jewel dating back to the 16th century. On our way to the modern area of the city, we will cross the exclusive district of San Isidro, the new financial heart of the city, to take a look at pre-inca Huaca Huallamarca. Finally, we conclude our circuit in Miraflores, where we will visit the "Parque del Amor" (Love Park) an excellent spot to enjoy a great view of the Pacific Ocean.
Day 3
Drive Lima to Huaraz. We drive directly to the mountain town of Huaraz. The eight hour bus journey and drive borders Peru´s unusdesert coastline for over 100 miles before climbing to the mountains. About 3 ½ hours on Pan American Highway (paved) to Barranca for lunch. The best place to eat is "La Gaviotas." It is on the coast, so passenger can stretch and have a nice view of the ocean.
Then 3 hours to pass of Conococha at 12,800 feet where you have views of the Cordillera Huayhuash range to the right (peaks from L. to R. are: Ninashanca, Rondoy, Jirishanca, Yerupaja Chico, Yerupaja Grande, Rasac [in front of Yerupaja, Jurau and Trapecio) and the Cordillera Blanca in the distance to the left.
Then another 1 ½ hours to Huaraz from Conococha.
Day 4
Acclimatization hike to Huari Ruins of Willcahuaín. This is a fairly easy hike to start out with (5-6 hours of hiking), which is good. Pyramid Expeditions will provide a bilingual guide for today and tomorrow. Two choices for lunch: 1) at the end of the hike at a good restaurant in Monterrey, called "El Cortijo." Good local dishes, including Pachamanca. This is a good restaurant, but you get there kind of late and people are hungry Or take with you pack lunch just so the passenger aren't so hungry. Eat the box lunch at the ruins.
Walk from the hotel through the old part of Huaraz (the only street not destroyed in the 1970 earthquake. This in itself is interesting for the passenger. Walk about 2 – 3 ½ hours to the ruins of Wilcahuain, mostly on dirt road with occasional cars passing. There is some uphill, but it is gradual.
These Wari ruins can be very fascinating (inside burial and ritual chambers) if you have a good guide explanation. The guide has lots of knowledge and good delivery.
Then 2 ½ hours steeply down on trail, through farms, to the town of Monterrey and lunch (if you eat at the restaurant). Monterrey, bus to take passenger back to Huaraz – Hotel (only 7 km.)
Day 5
Acclimatization hike to Lake Churup Drive about 1 ½ hours north of Huaraz to starting point for Lake Churup hike. Road is good. Start hike at about 12,800 feet in Pitec and walk up glacier moraine for about 1 ½ hours. Then tricky rock section where passengers climb steeply alongside stream. The right side is less tricky than the left, but there is one spot where the guide needs to set up a rope line. There is some scrambling on all fours. While it is not exposed, it is tricky. This section only lasts for about 30 feet or so. Arrive after 2 ½ hours (or 3 if passenger go slowly) to Lake Churup, at base of Churup glacier, 14,700 feet. Eat lunch here. Return is less time. With driving time this is a full-day excursion.
Let the passenger know that this is a tough day. They will be tired since it is a tough climb for having just arrived at altitude, and also we do not have any trekking like they will experience this day.
Day 6
Huaraz – Hualcayan. Drive north in Callejón de Huaylas. The entire range of the northern Cordillera Blanca rears up from the main road as we pass west dominated by the huge bulk of Huascaran, Peru´s highest at 6768 . We will pause and reflect at the memorials to Yungay,a thriving town of 25,000 people, horrically obliterated in 1970 by a tidal wave of mud, ice and rock unleashed by an earthquake from the slopes of Huascaran.
Beyond the market town of Caraz we turn off to climb up through patchwork fields towards the mountain and set up our fisrt camp at the tiny adobe setlement of Hualcayan at 3100 m. 5/6 hrs.L.D.
Day 7
Hualcayán to Wishcash Three or more hours zigzag up to knoll and have lunch there, lunch is ½ hour after landslide named Calamina. One or more hour up to another knoll and camp at Wishcash, 13,800 ft. It is worth walking 10 minute beyond camp to overlook Lake Yanacocha, steep cliffs down to lake, dramatic views. Can see snowed peaks of Milluacocha, Pilanco and the Cordillera Negra in the distance beyond the lake. Wishcash camp. 4329m. 5-6 hrs. B.L.D
Day 8
Wishcash to Ruina Pampa. After leaving camp next day, continue across rocky slabs and up above Cullicocha, with dramatic views of rocky cliffs above the lake. 2 ½ rocky trail up beyond Cullicocha (4650m), Our first pass of the day is Paso los Cedros or Cullicocha at 4850 m (15500ft) (the highest pass during the trek), 1 hour steep, rocky downhill to Osoruri, then 1 hour up to 2nd Vientuna pass 4750 m(15000 ft.). From the pass a steeply down into the Quebrada los Cedros. Across the Valley is the tiny high settlement of Alpamayo with its many pre-Inca terraces, a marvelous day and. nice campsite. 4100 m by the river with views of Pilanco, Alpamayo and others. Camp 4100m. 6 – 7 hrs. B.L.D
Day 9
Ruina Pampa to Alpamayo Cross. Very gradual climb up on right side of Alpamayo River. After 1 1/2 hour views are (from L to R): Tayapampa, Jancarurish, and pyramid of Alpamayo; 2 more hours or gradual uphill to camp at Alpamayo Cross, 13,500 ft., lunch at camp. Afternoon if energy allows, we climb higher to visit the Laguna Jancarurish bihind a high moraine or take it easy at the campsite.4200m. 3 -4 hrs. B.L.D
Day 10
Rest Day, Optional Hike to Alpamayo Base Camp Rest day, optional hike to Alpamayo base camp, about 6 hours round trip.
1 hour up to Jancarurish Lake, steep and rocky in some places; spectacular views and The world´s most beautiful Peak- Alpamayo. 5947m, continue up to base camp, 14800 ft; return the same way you went up. 4200m. B.L.D
Day 11
Alpamayo Cross to Safuna (Huilca). We start early in the morning, Alpamayo always in the view behind us .We climb steadily up to our next rocky passes. Another 2 passes day, second pass is not difficult. 3 approx. hours steep up to Cara Cara pass, (4850m)15500 ft. ½ hour steep downhill, then 1 hour across large open Moyopampa to lunch. ½ hour up to Mesapata pass(4750m) 14800 ft. Then 1½ hour steep downhill trail, not easy to find, to Safuna River. Views of Pucajirca (6050m) across the valley, camp at 13800 ft. 5-6 hrs. B.L.D
Day 12
Huilca Pampa – Janca pampa. Today is the Alpamayo trek at its best an exciting pass leading to a total contrast of landscape and our first Andean settlement. We begin with an ascent of a side valley from which there seems no easy way out. However a stiff climb and a final stretch of red scree brings us to the col (4600m). The initial descent on steep compressed gravel needs care for the first 30 or so metres, but then becomes easier and we enter a rocky valley with queñual woods clinging to the rocky cliffs of the valley sides. Continuing, we reach the wide flat valley of Jancapampa, full of wild horses and dominated by an immense hanging glacier at its head. Trilby hatted kids appear from nowhere and gather around our camp to guarantee an animated evening. 3600m. 6-7 hours. (B,L,D)
Day 13
Quisuar – Visit Ruin Yaino. After breakfast, we start walking toward ruin Yaino, Pre Inka site. After exploring this ruin, and our whole way fantastic panorama of our walk of the day and return to the field. 5/6 Hrs. B.L.D
Day 14
Jancapampa to Quisuar. Start after breakfast. We pass village houses and cultivates areas where we see a slice of Peruvian life that probably has not changed much in hundreds of years. Then 1 hour on a very steep downhill to the large very populated of Jancapampa and Pingospampa, 13500 ft. Stunning views of Pucajirca (R) and Taulliraju (L). Then ½ hour down right side of large and boggy Jancapampa valley, Turn right for a 3 hour steep uphill to Tupa Tupa pass 4400m, it is 2 ½ hours of gradual uphill the valley to the pass, 14000 ft. Not a difficult pass, just fairly long, about 4 hours from camp to top. On the pass you have views of Pucajirca, Taulliraju and the glacier in between, where we camped the night before, down below. 1 hour steep downhill, not always obvious trail, to lunch, then another hour gradual downhill trail to the large meadow of Quisuar or Huecro cocha lake camp here, a beautiful area.3950m .6-7 hrs. B.L.D
Day 15
Quisuar to Paria. This morning we begin ascending ½ hour steep uphill to Huecrococha, 12300 ft., and then 45 minutes steep downhill on the right side of the lake. 1 hour or more across the valley, contouring, then 1 ½ hours down a steep zigzag to Alto Pucaraju pass 4650 m, 14000 ft., at the pass there is a superb view of peaks, but the most dominant is Taulliraju (5830 m) a total of 3 ½ hours to the pass. Dramatic views of Punta Union pass (4750 m), Paria, Pyramid and Chacraraju across the valley. Steep, rocky downhill trail the upper part of Huaripampa valley for about an hour 1/2 to Paria camp. 380 m. 6-7 hrs. B.L.D
Day 16
Paria – Vaqueria – Llanganuco – Huaraz. Duration: 06 hours approximately
Day walk begins in the Cordillera Blanca. At 6:00 am an alarm tea after breakfast at 7:30 am approx. It descends on an easy path, which leads through cultivated land, to the town of Huaripampa. Rural scenes where we provide a nice contrast to the environment of the highest mountain in which we have spent the last few days. From the village of Collo the trail begins to climb again towards the village of Vaquería (3800m), after a rest we take our bus to portachuelo of LLanganuco one step away Portachuelo pass 4767msnm, where you have a spectacular view of the Huascaran Norte (6650m),Huascaran Sur (6768m) Huandoy (6395m), Chopicalqui mountain ( 6354m) Pisco mountains (5752m), Pyramid (5885m) and Chacraraju (6112m), descending have the full view of the gorge LLanganuco with gaps Orcon cocha and Chinan Cocha, after reaching the city of Yungay, continue our trip back to Huaraz-Hotel.
End of service. B.L
Day 17
The bus leaves early for Lima stopping for lunch on the way – Lima – Hotel
Day 18
Depart Jorge Chavez International, Lima Airport and flight back.